Internet technologies and their applications 
INTRODUCTION 
0.1.1 Problem area 
0.1.1.1 About Mobile Internet 
There is a lot of competition on the mobile internet market. The competition started with the mobile phone, which was originally constructed as a niche product. Customers accepted this niche and the mobile phone industry went to a global consumer market a couple of years ago. The same tendency was shown in the computer world where the bulletin board system (BBS) allowed the first internet connections and nowadays internet is a natural thing for many persons all over the world. Not everybody is using the internet or having a mobile phone but almost everybody knows that it exist and perhaps even what it can be used for. With the new technologies mobility is everything and the internet is also accessible on remote locations and this gives the opportunity of providing many services, worldwide, through the use of the internet.
0.1.1.2 Understanding of the Market 
The European customers were very fast in using mobile phones and the European firms expanded very fast. The main players on the European market are Ericsson, Nokia and Motorola.
The Japanese and Korean market has also been blooming in the mobile phone and mobile internet technologies. But for many users the internet and the mobile phone has integrated the society at the same time, mostly through mobile phones. The main players on these markets are Mitsubishi, Panasonic, Samsung and Sony.
0.1.2  Restrictions and problem formulation 
The report will mainly be concentrating on the European market. The world market will be looked at to see the behaviour of customers all over the world and to identify niche markets, we concentrate mainly on the Japanese market since it is very different from the European market in our comparison.
The larger competition on the market gives an increase of products. If the variety of products gets so divers the product life cycle (PLC) normally gets smaller. The larger variety of products makes it harder to differentiate the products. The idea is: "To get the right product to the right customer".
It is our believe that segmentation of the market is the right answer to do this.
0.1.3  Outline of the report 
The project is split up into these logical parts.
Problem Area
Restrictions
Analysis FrameWork
Emperical introduction
Case Studies
Integration
Conclusion
Three main parts are considered :
–  The introductory part (this part), explaining the purpose of this report.
–  The analysis framework where first a segmentation is performed by us on the mobile
internet market in terms of a product specification segmentation, together with its advantages and disadvantages. The confuse technology and customer relationships are gathered into a cognitive map and a segmentation model of our own is deviced.
Further on in the case studies we focus on Nokia and Ericsson who are one of the leaders of the European market and bring up the current issues related with the mobile internet. The case studies enables to combine both theory and findings with practical
experience.
–  In the last part the different findings are compared and a conclusion is drawn.
1 ANALYSIS FRAMEWORK 
Introduction 
The framework analysis consists of three main parts.
The first chapter : Geographical situational assement compares the different world markets and goes into some detail of the power of these markets.
The second chapter: Product classification, where the concentration lies on the Product specific segmentation, also sometimes called PSS. The different main products available for the mobile internet are listed and compared with their functionality.
A situational assessment is performed on the product classification and the current products are examined by using soft methodologies to find the different benefits and limitations of the products.
The situational assessment is also very product focused and since the situation is so different dependent on the geographical situation the different findings in the market are also described by their geographical differences. The situational assessment tells us how to look at the different products and due to the constructed SWOT matrix there is focus on the products and the benefits that these products give.
The third chapter concentrates on characterizing the mobile internet market from a perspective of the customer, the technologies and the products. The aim of the chapter is to describe the relationships that are important for customers when acquiring products. Here the obvious tool to use describing these relationships is a cognitive map where a messy situation can be ordered to find some structure.
The fourth chapter combines the results from the previous chapters and allows suggesting a possible mobile internet segmentation model.
The framework analysis altogether represents the findings done in this report and will be used as a guideline when performing the case studies.
Performing a segmentation 
The need of segmentation emerges from the huge competition in the market where one has the success who can best fit products and services to the customer. In other words, segmentation is made to accomplish producer's goals, which are:
–  match customer needs
– enhance profit
– retain customers
–  easier targeted communication
Producer can do segmentation a priori, i.e. before starting business in the field, or can choose faster and more flexible way – adjustable segmentation. The selection depends on a lot of factors as: business field, previous experience, position in the market and other.
 The base for segmentation can be customers' geographical, behavioral, usage, attitude and other data shaped and analyzed from perspective of potential clients' needs, values and goals.
 Conditions for successful segmentation are efficient classification (should be effective and identifiable) and well-prepared evaluation (profitable and accessible).
 In the segmentation process the attention should be paid to the type of targeted customers – is it mass or selected market; do customers have big degree of freedom in choosing products.
 Today the main existing market segmentation models are: Product, Technology and Customers.
 After identifying and selecting the customers, the producer should make it's success assessment, segmentation adjustment and targeting on the different market to increase profit.
Geographical situational assessment 
1.1.1 Europe's situation 
According to the studies  realized in September 2000 by a Nederland Cabinet "Pro Active International", on the access to the Internet and Mobile Internet in Europe from 3500
Internet users, there are a lot of gap between Europeans in the deployment of cellular phones and in the expectation of Internet users concerning Mobile Internet.
In North Europe, more than 60% of people of Finland, Norway and Sweden possess a mobile phone. In terms of subscribers, France comes in the 4th position with a penetration rate of 43% just ahead of Belgium (40%).
 The lead of North European countries in the field of mobile phones is also clear in the domain of access to the Internet. At the date of the survey 19% of French are connected to the Internet versus a European average of 24%. But 59% of French Internet users hope to use Internet with the wide development of WAP and ADSL cable in Europe, whereas one out of two Europeans expect doing the same.
 Moreover, 45% of French consider that WAP is a good way of receiving emails versus
30% for a European average. There is 38% of French thinking that WAP is an excellent tool of managing their agenda compare to 23% for European Internet users.   In order to overcome various obstacles to the deployment of Mobile Internet in France,
48% of the Internet users are ready to change their mobile phone versus 40% in Europe,
36% are ready to change their operator versus 23% in Europe and 29% are ready to change their mobile number versus 25% in Europe.
But in terms of financial concession, only 14% of French Internet users will accept to spend their money to buy new mobile phones versus 15% in Europe and only 1% is ready to pay for each used service versus 3% in Europe.
These results rather pessimist for the WAP confirm the survey according to which only 11% of French, German and British Internet users know about this technology.
1.1.2 Japan's situation  
If the number of Internet users in the world is estimated to 276 millions according to the survey  of NUA made in February 2000 and by examining the rate of penetration at the end of the year 1999 in Japan, 27.06 millions of people between 15 and 69 year old use Internet, which is an increase of 59.7% compared to the year before and the number is estimated to 76.60% in 2005 according to the Japanese Ministry of Post and telecommunications. This exceptional increase is due to the multiplication of access terminals, personal computers PCs, mobile phones, personal digital assistant PDA, and game devices and television.
In 1999, the Internet users in Japan spent 350 billions of yens in current consumable goods bought on the Web whereas the e-business has grown to 14.400 billions of yens.
Three important factors explain the importance taken by mobile Internet in Japan.
–  The number of computers connected to Internet almost equals the number of colour television sold in the countries (9.9 millions of PC for 10 millions of TV in 1999).
–  The contracts on mobile telephone are now in number greater than that of fixed telephone lines (56.8 millions of cellular in 1999 versus 55.4 millions for fixed lines).
–  The services allowing access to Internet through mobile phone are having tremendous success.
In Japan the mobile Internet is often known as I-modeiii (Internet-mode).
According to NTT DoCoMo in November 2000, 60% of I-mode sites provide games and
entertainment applications, 19% for news and information, 9% for ticket reservation, bank and finance and 8% for other accesses.
1.1.3 Summary 
Japan clearly succeeded in boosting mobile internet services. This can be explained by capability of choosing right marketing and well-prepared value-chain strategy (operator takes only up to 10 percent of revenues made providing service). While in Europe it's still true that operators live on expectations and ideas that they can manage all services by themselves so avoiding sharing money. But here comes another problem – only several European operators has kept their R&D departments to take care about future services and customer needs.
When comparing I-mode and WAP it's often stated, that I-mode was leaded by marketing people and marketed by marketing people, while WAP was leaded by technical people and marketed by technical people.
1.2  Products classification and segmentation 
This part concentrates on the different main products and services provided for the mobile
internet. The relevance and the advantages and disadvantages are discussed later in this chapter.
(The following classification was compiled from sources, see list in reference vi)
 1.  Mobile PCs, have some capabilities as ordinary stationary desktop PCs, but can be used in a mobile environment.
 a) Laptop PCs are result of PC miniaturization.  These computers are typically about the size of a piece of letterhead (8.5 by 11 inches), and perhaps one to two inches thick. Reasons for not making them smaller then mentioned
size are that Laptops are used instead of their bigger brothers Desktop PC
while maintaining the same comfort of user interface – reasonable screen
and keyboard size.
b) HPCs (Hand-Held PC) are defined as sub-laptops that could fit in a shirt pocket. The main competition to HPC is PDA (Personal Digital Assistant).
Some HPCs in capabilities are richer than a simple PDA's. For example,
spreadsheet programs, word processors, database and communications
programs can be run on them. Even they can be connected to internet by
employing mobile phone.
c) PDA (Personal Digital Assistant). These devices are capable of storing a
database of contact information, an appointment calendar and often a
collection of memo or a to do list. Some PDAs has OCR interfaces for data
input bundled together with small input screen and pen to write on it. Others use tiny keyboards. Many of them also are shipped with interface to connect to PC for synchronising their data with data files on the PC. PDAs that already are not PCs will have a secure niche in many of our pocket and purses.
2.  Mobile phones 
Mobile phones are for the mobile Internet what a desktop PC is for the Internet service.
The reason for this is that the mobile phone is first of all a voice call tool which
remains important for people and also very easy to carry, i.e. it provides true mobility.
Mobile phones can also be used to send short, photo, video messages and for the search
of flight schedule, consulting news, sports, whether forecast, stock exchange and
performing payments.
3.  Public services  
Many public services are given through mobile Internet facilities. Some of the most
provided services are:
a) Transportation services
Transportation is vital in human life. Therefore, while using public transports like plane bus or train, maintaining the communication is very important in order to have usual contact or access to required daily services as at home or in the office. That is why some specific terminals could be integrated inside busses, planes, trains and others in order to allow people to have access to the Internet at anytime.
b) Payment services 
Electronic business has become very popular and even indispensable for many people. Also different transactions, purchase and payment are carried on today via mobile Internet services.
c) Information services 
These services are various and range from weather forecast to instant road traffic information or any other kind of real time instant news service.
4.  Remote control systems and terminals 
Remote control systems are very important tool for measuring, controlling and
monitoring the characteristics of some medium or equipment that could not be easily
accessible otherwise. 
a) Transport systems 
Security is of great concern in any kind of transport system. And in order to provide security, remote monitoring is necessary. Mobile internet service is also used to track deliveries from factory to consumer for example in delivery firms. 
b) Industrial Equipment 
Many industrial types of equipment that need to be accessed and monitored are placed in locations hardly accessible by people. Specific control systems using mobile Internet facilities can be used to achieve that purpose.
Terminals are used for providing distributed mobile Internet services.   They become mainly useful in places like a bank, a train station or in a company where  they provide internal information, the traffic information at the station and  inside the company.
1.2.2  Situational assessment for mobile internet products 
 After finding and describing the products a situational assessment is performed on the mobile internet products which goes into the dept of the different product values: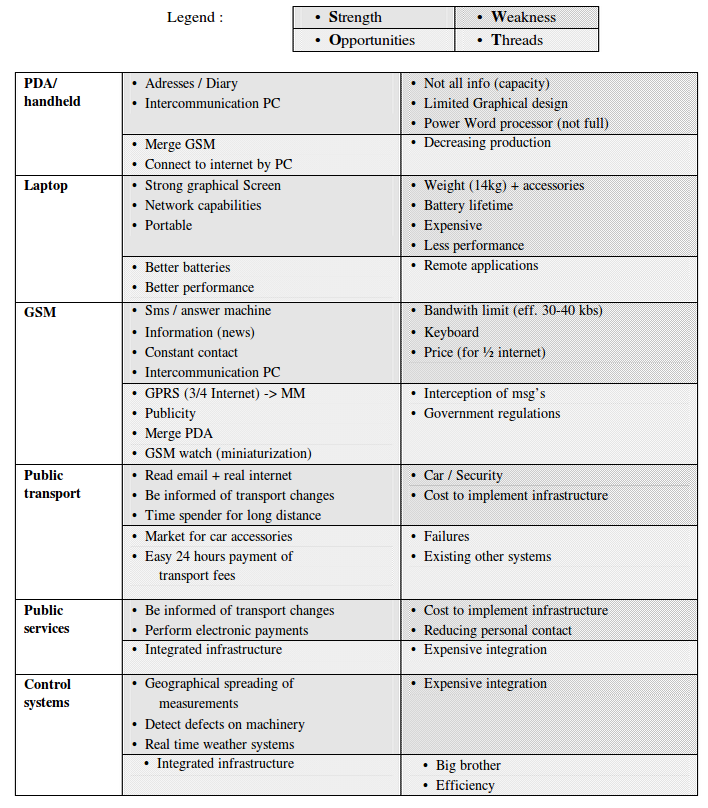 This overview represents the different possibilities and further improvements that can be done on the different products. Further more we will link these products with their technologies and the consumers in the following section.
1.3   Cognitive map of products, technologies and customer 
needs 
With the adventure of new technologies in field of information and communications, the people needs are changing in the sense of new opportunities. Mobile internet is considered to be more that internet on the wheels, but also it's introducing new dimension to real-time
communications (viii)
Many of needs mentioned below can be satisfied in new quality by using mobile Internet services.
Consulting tomorrow's weather forecast exactly when you need it
Consulting the movies schedule by mobile devices
Instant messaging at any place anytime
Directories – search for a name or address, locating in the map and calculating how to get there best from your existing location
Consulting of news, sports, stock exchange, banking service, management of spare time (leisure and games) at any place anytime
Management of agenda
 The cognitive mapping technique has been chosen for investigating human communication needs and stating their relations to available classes of products through mobile Internet enabling technologies. This map is the mean to enhance knowledge about customer needs in the way to better understand and evaluate possible personal telecommunication market segmentation. There is a need to create a holistic view of the consumer as such to segment and target the consumers and to require the correct technologies.
By building our map we aimed to study and classify human communication needs and find how they relate to existing mobile products for humans on the market – i.e. laptops, PDAs, phones and specialized terminals. Mentioned products are placed in the upper part of map.
At the bottom of map human communication needs are placed and pointed out their kernels
– basic human ways and methods to communicate – see (vision), hear, message communication (exchanging messages), organized storage (human need to have organized storage), presentation of yourself to others. These methods are facilitated by telecommunication technologies used in consumer market. Besides them there are human interfaces (or ways of communicating), which still not supported by wide-range telecommunications. Those are smell, feel and think (the need to communicate with 'thinking' system – computers are still not capable to think).
 These basic needs are expanded into concrete needs' realizations. Hearing is understood as the need to listen music or communicate with other persons by voice. We tried to classify only to the level where it is clearly possible to assign technology services for it.
 Technology services in the map fill the space between products and communication needs.
Services relevant for mobile Internet are shown grouped into Multimedia, IP, GPRS, GSM and GPS areas. UMTS is still understood as unclear future, this is why we put it under question mark, but it is obvious now that UMTS will play very important role in future of Mobile Internet. The positioning service GPS is considered to be of significant importance for location-based services as well as for precise timing synchronisation.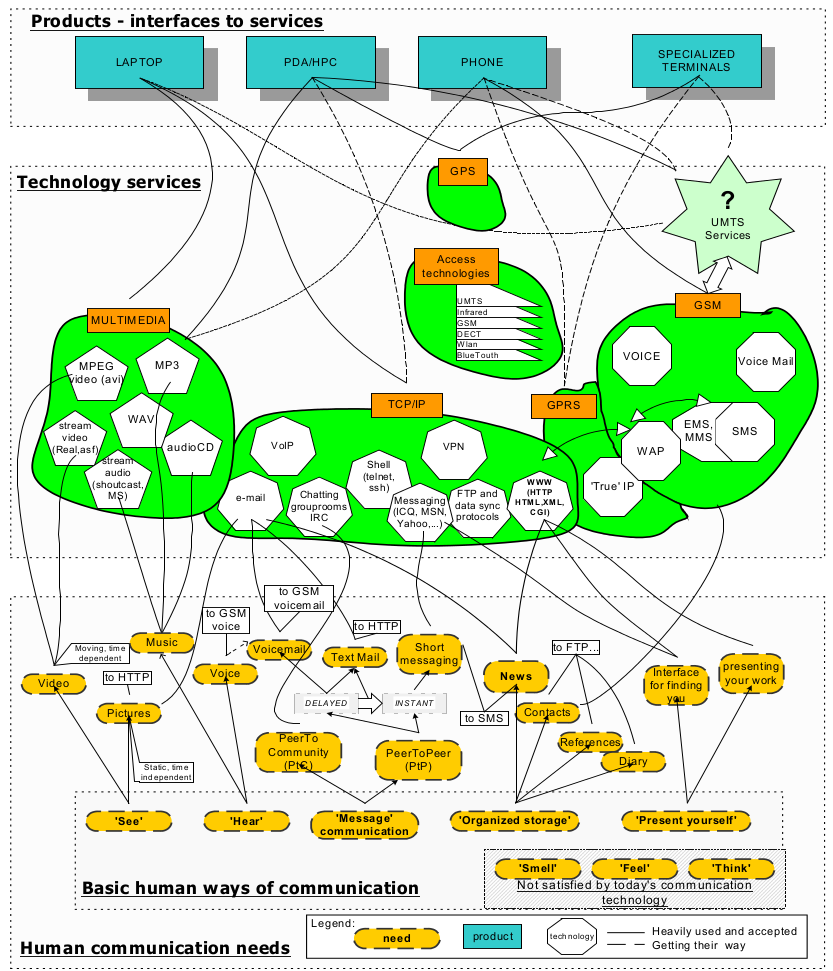 By creating and discussing this map we come out with following ideas:
1.  Products are merging as technology evolves. In the future products will differ only by user interface, but inside functionality will be based on the same IP platform.
2.  Technology services are converging fast to one unified IP platform, where TCP/IP protocol family form basis for providing all kind of services, including multimedia.
3.  Human communication needs are changing very slowly, i.e. they are relatively very stable and will always leave option for their segmentation.
4.  Basic human communication needs can be covered by Internet technologies empowered by mobile means.
1.4  Suggested mobile internet segmentation 
For this part it is necessary not to consider the different products but to concentrate on the consumers or the users of the mobile internet technologies.
The user point of view is important and the closest identifiable user can be found in the internet world were already a consistent segmentation can be made.
The result shown below is our suggested mobile internet segmentation model.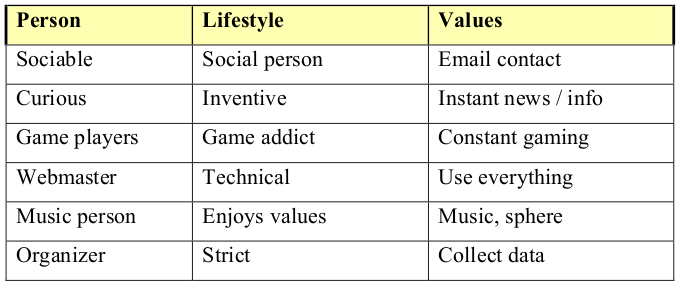 2 CASE 
STUDIES 
2.1.1 Introduction 
 The case studies are based on interviews with some of the leading companies within the field of mobile telecommunication. An interview is preferred instead of a literature-based case study. This is because of the enhanced flexibility that is possible when performing an interview, and the possibility to retrieve in-depth information concerning the topic.
The meetings with Ericsson and Nokia in Denmark were organized to get knowledge about how these companies comprehend mobile Internet, market segmentation and users perception.
 The base of their segmentation is investigated throughout the whole interview, with focus on the tree aspects of the pyramid: Attributes, Benefits and Goals.
It is also important to find out where the segmentation is performed. Either only in some departments or it is supported by the whole firm.
2.1.2  Preliminary interview assesment 
Before starting the intervieuw with the two of the leading companies in the mobile internet market we investigate their methods for segmentation for the global phone market.
This in order to see if the segmentation model of the mobile phone market fits to that of the mobile internet. Or if there might be any relationships or if this model is the same for both market perspectives.
2.1.2.1 Ericsson Mobile phone global segmentation perspective

2.1.2.2 Nokia Mobile phone global segmentation perspective

2.1.3 General topics concerning mobile internet
Some questions and concepts that have direct or indirect influence on the penetration of mobile Internet into the live of people can be raised. They also give explanation about the behavior of customer towards mobile Internet and its success. And can be used as a ground basis for the interview.
1. Understanding of mobile Internet The Mobile Internet has enormous possibilities, but there is lack in understanding them and different perspectives about the subject.
2. The speed of the connection to the Internet.
The speed of the connection to Internet is crucial as far as mobile Internet is concerned.
3. The generalization of terminals
Creation of specific WAP terminals for f.ex. publication services, and the managing of these services.
4. Cost of connection and service
These include billing costs, types and prices of connection (time-based, flat-rate, volume-
based) and type of services: f.ex. Value Added Services
5. Which services are included into the Mobile device?
Mobile = voice+multimedia services (but what about information services?)
6. Which devices should use Mobile internet?
There is a continuous integration of mobile phones with PDA and other devices.
7. How is the content of services provided for the mobile Internet?
This can be poor, scattered, non-regulated,…
8. The standardization in the Mobile Industry.
Is it effective? Do they use open standard? Is it flexible? How long time takes it to implement the new standards.
9. Are there any privacy restrictions?
Government regulations, EU laws (f.ex. competition law)
2.1.4 Main questions for the interview
The guiding questions for the interview are listed here:
1. What does mobile internet mean for the firm?
Some firms have different perceptions in their role with the mobile internet and this will focus on the company's situation.
2. What are the futures (visions) for the mobile internet?
This puts the focus on the direction that the firm is focusing on.
3. Which basis do you use to segment the mobile internet area?
These factors can be geographically different and gives also an insight of the type of customer the firms tries to attract.
4. How many segments do you think exists and which segments do you choose? Many segments take focus away while only few segments might provide an unsatisfactory segmentation.
5. How does the current firm's segmentation model fit the mobile internet needs? Is the complete firm using the same model for identifying their customers or do every department have its own strategies.
6. Are the customers differentiated by Age?
This factor can be of importance if the customers are private persons and have specific needs.
7. How do you price the different segments?
Basic price setting for the different products can be either customer specific or everybody can have the same price.
8. Is the learning process considered for every segment?
Are the technologies easy to use for all persons or are they implemented because of the possible need.
9. How do you target the customers and are there any positive effects?
Active publicity can help the process while in some cases no extra publicity is needed since the product can be very known.
10. How does the short PLC affect the customers?
Most products in the mobile internet market have a short lifetime, this demands very different strategies and sometimes it can be sufficient to present several new functionality on a short time.
2.2 Case study of Ericsson, DK
The meeting with Vagn Nielsen, Business Consultant from Ericsson Mobile Internet Solution Consulting was organized and come out to be very fruitful in understanding Ericsson's position on issues related to mobile Internet.
All following information provided regarding Ericsson comes from interview with Mr. Vagn Nielsen.
2.2.1 The company
Ericsson is one of world top-10 supplier in telecommunications. It has 12% of Europe GSM handsets market, which makes about 20% of their
revenue. Other part – 80% of revenue is made from providing platforms for telecommunication operators where it scores no.3 supplier in world.
Mobile Internet for Ericsson is a technology, which helps support customer's mobile
life. It provides more freedom for user. Internet based platforms for mobile operators'
networks simplify overall operational system and enhances flexibility in providing
services.
Ericsson sees itself as more platform-solution provider for operators as opposed to Nokia's
concentration on customer terminal market.
Even though Ericsson's position in handsets market is tried to be strengthened by merging
with Sony into Sony Ericsson Mobile.
2.2.2 Market segmentation
Ericsson previously was known to follow 'Take 5 Model' for mobile phone global segmentation. This seems to be changing as more Internet is introduced into mobile phone market.
Ericsson chooses to concentrate on providing complete and flexible platform for any kind of services 'anytime anywhere'. In terminal market this is understood in starting producing 'Sony Ericsson inside' terminals with powerful engine while other companies will decide specific outlook and exact functionality. This is supposed to work as 'Intel inside' conception is working in PC world. The customers' segmentation will lie on these subcontractors.
For operators market all products goes to unified IP platform solution, and again there is no sharp market segmentation here, the decision is to provide all functionality today's technology allows and let operator choose by itself what it wants to buy and use.
2.2.3 Customer
Freedom is the customer's basic need today. Customers are happy buying new terminals or services, which provide more freedom for them. Under freedom usually is meant possibility to satisfy your needs 'anytime, anywhere'.
In the same time the terminal becomes more and more tight connected with owner. For man mobile phone already now is very personal thing. This is why we feel discomfort if somebody else is taking our mobile phone and play with it. Phone could provide a lot of information, which is comprehended as very private – information about to whom we've
called, address books, notes.
Ericsson understands as the way to success the need to go even further in personalization by adding new functionalities. Their newest mobile phone models have got extra features and even more is anticipated in future. Also there is huge need in taking care about physiological factors, for example, users appreciate a lot ability to personalize terminal welcoming and good-bye-ing in text or even moving pictures. And knowing that there is no need to segment market as it is true for everybody.
The user trust is also very important. Customer feels calm and non-stressed while knowing that his personal thing will work as it is promised. It is more and more difficult to achieve as new technologies are pushed to market at very high speed and sometimes without enough testing.
Today in handsets market Ericsson segments customers according the amount of money they can spend for terminal. There are 3 categories – A, T and R. A corresponds to lowest price; R is addressed more to functionality and lies in the mid-price class. While the T products are exclusive products, mostly only used by Pioneer. Although during the PLC
the product might be used by any of the different persons.
All Ericsson mobile phones released from now will have enhanced set of functionality.
And since mobile Internet terminals become more and more complex, the same complexity turns against user who now has to decide if he wants for example email accessed by GPRS, WAP, and SMS. The products are understood to be managed as simple as possible. In order to achieve that there will be similar solution, earlier seen in Microsoft Office product
– when functionality increased above threshold; the interface was simplified (in form of not fully shown menus). Ericsson estimates the simplicity in interface to go even further and foresee two buttons to be enough for mobile phone in future. Ericsson also provides
2.2.4 Services
Mobile network can be divided into 4 layers.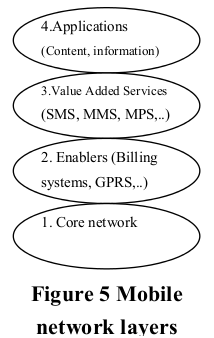 In the bottom Core network located, responsible for data and voice
transportation.
Second layer is Enabler technologies, which allows providing services for users (as GSM speech codecs, WAP, billing services).
Third layer is Value added services (VAS) – services, which can be utilized for accessing applications (for ex. SMS, MMS).
The fourth part – Applications – covers content.
The user is interested in getting service ,from the  4 th layer and is willing to pay for it.
Ericsson up till now was good at making products in first 3 layers. But today it also targets at last, 4 th layer, which previously was only in operator's competency. As the bandwidth price is dropping all the time, in future the 4 th layer is considered to be most important in getting revenues, this is why everybody is willing to get peace of it. Ericsson uses several strategies here.
One of the possibilities used – supporting Ideas houses' ideas by providing platform for free, while sharing revenues. Another is preparing their own applications, content and after what offering them to operators. And operators usually are treated as being good only in one area – attracting masses and collecting money from them. Ericsson also participates in
open source by publishing API's to their products.
Ericsson's strength is in their broad range of products. Flexibility is highly supported by IP-based solutions. But still there are several brakes for their solutions. IP provides flexibility, simplicity and interoperability, but the problems come in billing part. Ericsson has billing solution, but it is extremely complex and time consuming to implement.
Another issue – Ericsson has got solution, but it is really good only if networks already are based on Ericsson installations. Otherwise it's very costly to adapt.
In the field of mobile Internet, all traditional Internet services should be supported (email, www, data transfer). Additional functionality is added by moving towards integration and user profile unification. Microsoft is pushing its .NET platform to provide unified profiles.
Usually mobile operators are willing to use their Home Location Register for profile management and are very unwilling to outsource it in any way. Ericsson provides their own profiling product. For example it allows after taking pictures with your mobile camera, images to transfer to server in network. Later on they can be accessed through simple Internet or any Internet enabled device. In this way mobile Internet is enhanced with storage service, which is quite important to customer.
Ericsson's investments into mobile flexible IP platform is going to pay back more after MMS (Internet based mobile multimedia service) will be finalized.
As example for operators market could be taken the solution for providing MMS services.
The MMS specification defines that user terminal must support at least JPEG format for pictures and WAV format for sounds. The format for streaming is still not decided.
Ericsson's MMS system component in network is responsible for adapting (or converting) and compressing any media format to one supported by end user terminal which type is known to network. And in this case the MMS component is mediator between traditional Internet and any kind of future mobile Internet and is meant to provide best quality and
price combination for end user.
The European users are used to pay for their internet connections and services while Japanese users are more used to pay for mobile internet connections and their services.
This makes another business situation, since the internet was introduced in Japan together with mobile telephony. While Europeans are more used to use their PCs static connections to access internet.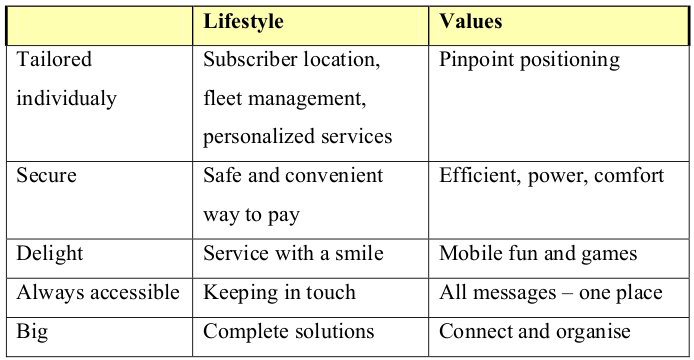 Ericsson Mobile internet segmentation perspective
2.2.5 Interview conclusion for Ericsson
Ericsson is concentrating on providing Internet-based platforms for mobile operators, which are designed to facilitate mobile Internet services. Platforms offered cover all four mobile network layers – core network, Enabler, VAS and Application.
All innovations in these layers are usually pushed to operators from Ericsson and this is why Ericsson feels so comfortable about operators' market.
Ericsson has got no customer segmentation by behavior or lifestyle. Segmentation is left for those who will shape the product and sell it to mass.
But on the other hand Mobile Internet for Ericsson is still 'future success' as for now it hasn't brought any revenue to the company.
Ericsson provides billing systems to the operators and has already sold two systems and is continuing to support further functionality's within their products.
2.3 Case study of Nokia, DK
Case study of Nokia is not based on one main interview, but rather is compiled from own experience while participating in different conferences and presentations by Nokia, meeting their people, gathering information from their website ix . Valuable information was found on the papers of recent International Nokia Mobile Internet Conference, NMIC
2001, taking place November 20-21 2001, in Barcelona x assuring that information is up to date.
2.3.1 The company
Nokia is the world leader in mobile communications, it's top-10 world supplier of mobile phones and a leading supplier of mobile, fixed and IP networks. Nokia employs 60 000 people worldwide and has 33.4% international mobile phone market which makes 2/3 of company's revenue. Nokia has especially strong position in European market.
It the Nokia's perception, Mobile Internet is rewriting the rules how people live – how people stay in touch, how they amuse themselves xi .
Mobile internet in Nokia's understanding goes along with messaging and these 2 terms are united into conception of 'Mobile internet and messaging'. While messaging is understood in broad sense – including text, voice, video and data – i.e. abstract message.
Lately Nokia moved from only mobile phones and operators market into services market and try to provide solutions for everything what relates to mobile communications and services. It's also important to stress that Nokia is paying a lot of attention to future services what will be shown later on this report.
2.3.2 Market segmentation
Nokia makes a rich mobile internet segmentation according to different criteria. Lifestyle,Services and an adopted personal User Interface (UI). The personalized user interface makes it also easier for the companies to provide different products with a different look and as such to overcome the short PLC problem. Nokia considers very seriously interface optimization as an essential need for Mobile Internet success.
2.3.3 Customer
Nokia uses an Abstract User profile – that's flexible way to address all users equally according to their needs, and it's done by adapting (or optimizing) User interface to requirements. Using this Abstract User Profile it's possible to target exactly the correct segments. Which they also do in their commercials. Key points as: user's preferences, lifestyles, modes of access, attributes, statistical parameters are used for modeling the subscriber's behavior and even permissions on sharable data.
2.3.4 Services
Mobile Location Based Services are of high importance.
The MMS will have an extensive roll in determining the strategies for their services.
Nokia is also concentrating on the VPN marked and wants to enter the e-business market.
The services are targeted and the company wants to take a share in the small segments that exists and also tries to get a larger influence at the tele-operators but their main market is still the mobile phone services on which most of their focus lies. The services are lying on the tele-operator part very closely to the services discussed with Ericsson.

3 INTEGRATION
The discussions and investigations with Nokia and Ericsson together with our own investigations showed that there is a close attention paid to the segmentation of the products. The market is filled with different products and new functionality is added from generation to generation. The Needs or Values based segmentation is a strong tool used in both firms.
The short PLC (product life cycle) is still a fact and there is a large range of products available.
Evaluation
Ericsson fits in the bottom part of the C.M., they cover the functionality and technologies while looking at the need of the customer. Since they are looking more at the technological values the product SWOT is in strict focus. They are also very aware of the possibilities of their products.
Ericsson uses a VBPS (Value based Product Segmentation).
High focus is laid on the PAV (Product added Value) in the case of Ericsson and the main customer in Ericsson's case is identified as the tele-operators for their mobile internet market. Although short efforts are taken to contact the person by using commercial stands.
Like discussed previously as "Ericsson inside". The integration of the different ideas of segmentation for the customer are becoming somewhat distant in the firm and are not integrated as could be seen in the global phone segmentation perspective, which is quite a change. Subcontractors who will take care of design and sales should deal with the top part
of the C.M. Ericsson's website has however a wealth of information about mobile internet and full packages for the users who are interested in their technologies.
Nokia follows our segmentation closely and uses in some way a full C.M. As a market leader a large part of its interests goes to keeping its position by finding the different customers by means of large segmentation. Nokia's has a strong position in targeting and primarily the segmentation of different persons for the mobile internet just as they did with the mobile phone market.
They look at the different life strategies and the complete segmentation process by not only evaluating but also identifying and targeting the customer. They have high expectations from their customers. Because of this it can be stated that they use a VBCSS (Value based Customer Specific Segmentation) and try to contact those different customers.
Both firms are sure that the MMS will be important for their future platform and that the customers will benefit from the increased bandwidth provided by the GPRS/UMTS systems and that the complete multimedia from the internet becomes accessible on a mobile phone.
4 Index
4.1.1 ABBREVIATIONS
2G Second Generation mobile services
3G Third Generation mobile services
ADSL Asymmetric Digital Subscriber Line
ANSI American National Standard Institute
AudioCD Compact Discs, storing music
BBS Bulletin Board System
BlueTouth computing and telecommunications industry specification that describes how mobile phones, computers, and personal digital assistants (PDAs) can easily interconnect with each other and with home and business phones and computers using a short-range wireless connection
C.M. Cognitive Map
CGI Common Gateway Interface.A method used by www pages to communicate with programs run on the web server.
EMS Enhanced Messaging Service
EZweb Easy web
FTP File Transport Protocol
GPRS General Packet Radio Service
GPS Global Positioning Group
GSM Global System for Mobile Communications
GSMA GSM Association
HPC Hand Held PC
HTML Hypertext Markup Language
HTTP HyperText Transport Protocol
ICQ Instant messaging product, created by Mirabilis and since purchased
outright by America Online, where users can effectively page other users
and initiate text-based conversations a la Internet chat. Stands for "I Seek
You".
I-mode the packet-based service for mobile phones offered by Japan's leader in wireless technology, NTT DoCoMo
IP Internet Protocol
IRC Internet Relay Chat. Internet network which allows communication (by
typing) with people in real time and on various subjects
LAN Local Area Network
MMS Multimedia Messaging Service
MP3 MPEG 2 Layer 3 encoding for audio
MPEG
OCR Moving Picture Expert Group
Optical Character Recognition
PAV Product added Value
PC Personal Computer
PC Personal Computer
PDA Personal Digital Assistant
PLC Product Life Cycle
PSS Product Specific Segmentation
SIM Subscriber Identification Module
SMS Short Message Service
SSH Secure Shell
SWOT Strengths Weaknesses Opportunities Threats "Method of analysis
measuring strengths, weaknesses, opportunities, and threats. "
TCP/IP Transmission Control Protocol/Internet Protocol
UI User Interface
UMTS Universal Mobile Telephone System
VAS Value Added Service
VBCSS Value based Customer Specific Segmentation
VBPS Value based Product Segmentation
VoIP Voice over IP
VPN Virtual Private Network
WAP Wireless Application Protocol
WAV Waveform Audio
WLAN Wireless LAN
WML Wireless Markup Language
WWW World Wide Web
XML (Extensible Markup Language) is a flexible way to create common
information formats and share both the format and the data on the World
Wide Web, intranets, and elsewhere.
4.1.3 REFERENCES
iv UMTS and the mobile Internet in Japan, Jens Uggerhøj
vi PC magazine, Netwerk (Belgium) year 2000-2001
vii Peter Norton's Inside the PC, Seventh Edition
viii Mobile internet, http://www.eriksson.com
ix Nokia, http://www.nokia.com
x International Nokia Mobile Internet Conference,
xi http://www.nokia.com